"Education is the birth right for every children.

We are Developing a powerful India by providing Education."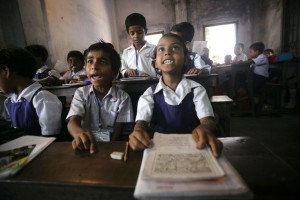 Education is the right of every children. It is the key to nation, success, knowledge and most importantly, is the most distinguishing factor between human beings and rest of the living organisms. We committed in providing free education services to children and services to orphanage and poor children. Our aim is to serve weakest section of the society and make it self sufficient.
Providing books, notes, stationery, bags, uniforms and other academic needs. Conducting seminars, self-development programs, cultural programs, quiz programs and career development programs. Providing complete training through Sachcha Manav Sewa Sansthan.
Children are the future of the country and Sachcha Manav Sewa Sansthan perfectly understand that and try to make changes in life of the children. The most effective way to do that is considered being the educational programs. Educated children will become better citizens. Sachcha Manav Sewa Sansthan in India undertake different educational projects and encourage people to support the hope of such children and donate into the education of future generations.
Sachcha Manav Sewa Sansthan is an NGO in India that promotes education among the children that can assess the education by themselves for different reasons. By educational projects, they aimed to create a base for the nation's future. The Sachcha Manav Sewa Sansthan organizes different workshops in India. We believes that better healthcare, poverty, population control can be achieved through a proper education.
Education is birth rigth for every children and it gives joy in life and knowledge so that a student or children in future give its best to achieve the goal. Sachcha Manav Sewa Sansthan provide education to orphanage and children who were below the poverty line. However, a person from any caste, religion we accepted. It makes the student future bright. Paramhans Swami Rajinder Ji Maharaj handles all the activities and groom all the students who are in ashram. It is non-profit organization work for welfare of Indian. People from Norway are supporting for this project. The ashram provide all the facilities for the students like food, stationery, free education and clothing etc.
The first and foremost step is to convince the parents to send their children to schools. Many parents hesitate to send their wards to school as they think the child is better off with working somewhere and earning some money to help the family.
School and College in Allahabad
We are running a School and College in Allahabad. Education is the keystone for the future. All children should have the opportunity to achieve their potential and we want to help them.  About 500 students are studying in this college and more than 50 staff members present in college and running all the activities in college and gives them the best to achieve their target